We know that Thai tourist destinations are usually Bangkok, Pattaya. However, for those who are knowledgeable about Thai tourism, the new Koh Phi Phi is the dream destination of their tour.
---
Koh Phi Phi's crystal-clear green jade beaches have a compelling attraction for tourists who come to Thailand for a visit.
Jade green seawater makes a special point for Koh Phi Phi
Koh Phi Phi is one of six islands in Krabi Province, southern Thailand. Koh Phi Phi Paradise was first noticed when it became the main turning point of the movie The Beach. With clear blue water, wild mountain scenery and monsoon tropical climate with two distinct sunny and rainy seasons, Koh Phi Phi is an ideal tourist destination when summer tourism in Thailand.
Surrounded by mountains and steep cliffs, Koh Phi Phi is the ideal place for those who love mountain climbing when traveling to Thailand. When conquering these cliffs, you can enjoy the beautiful scenery on the four sides of the Thai tourist paradise Koh Phi Phi.
Koh Phi Phi is not only a tourist paradise of Thailand, it is also one of the most beautiful islands on the planet. Therefore, do not miss the opportunity to take a closer look at these beautiful scenes.
Try a strong diving experience with sharks
You can rent a yacht to go around the island, bathing on amazing beaches. You can also try once to challenge yourself when diving with sharks – the gods of the ocean. Or simply, you just need to go to a private beach and immerse yourself in the blue water, gentle sunshine, enjoy a gentle and relaxing summer trip.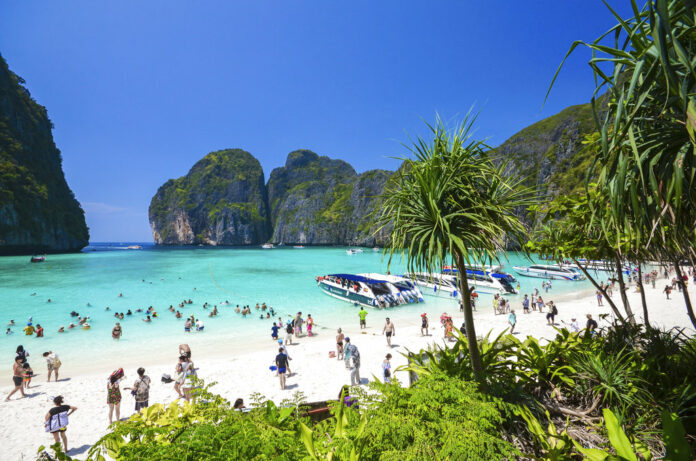 One of the easiest ways to visit Koh Phi Phi is the long tail boat. Each of these boats can carry about 20 people. If you want to go to a larger party ship, the price can be 5 times higher but you will have quite a unique experience with party boats.
Long tail is a popular means of transportation in Koh Phi Phi
One of Koh Phi Phi's dawn and panoramic views is most clearly View Point. In your tour, try once to take a hard walk to the top of View Point. Whether it is dawn or sunset, looking at the magnificent and magnificent landscape of Koh Phi Phi from here is worth the climb.
After having fun with nature exploration and relaxation on the beach, you can attend barbecue parties, campfire and bar at Koh Phi Phi at night. This is also an opportunity for you to get to know new friends and learn how to play with indigenous people at night.